This better not be true or we are in serious trouble.
Here's what we do know —
Obama is placing his people in
charge of elections from coast to coast.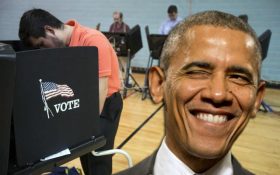 The Obama administration has just unveiled a plan to run the entire 2016 presidential election like one big Chicago ward — and it's a very real threat to democracy itself.
It's not as far fetched as it first seems. With the stroke of a pen, Obama could nationalize every election board in the country and make them follow any voting standards he draws up.
Unbelievably, the president says he's doing this to fight voter fraud.
See the Source below to read more.